Scan an item with Windows Defender
If you want to take advantage of scanning with Windows Defender, you have two ways. If you are using a different antivirus program, you can use Windows 10 Limited Periodic Scanning to periodically scan your PC.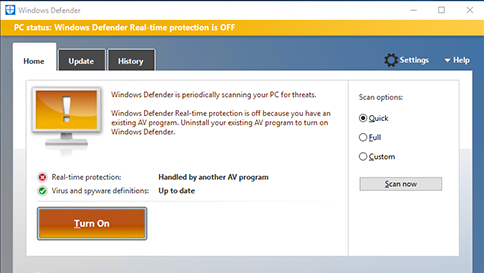 If you're already using Windows Defender as your antivirus program, use the Windows Defender Scan Menu to make sure that specific files or folders are safe. Both scans will notify you immediately if any threats are found.
To turn on Limited Periodic Scanning, go to Settings > Update & security, and then select Limited Periodic Scanning.
To scan specific files or folders, select the ones you want, right-click them, and then select Scan with Windows Defender. Or, open Windows Defender, select the Custom Scan option in the Windows Defender UI, choose the folders that you want to scan, and then click Scan now.
Using Limited Periodic Scanning does not turn on the Real-time protection feature of Windows Defender, nor is it a replacement for your antivirus program. To turn on Windows Defender, open Windows Defender, click Turn on, search for your existing antivirus program in Apps & Features, and then uninstall your existing antivirus program. Windows Defender will then automatically turn on.