Awesome duo Cortana and Microsoft EDGE
Like cats and videos, some things are just better together. Only Microsoft Edge has your personal assistant, Cortana , built right in. On pages where she can help, she'll show up in the address bar with suggestions. Click her message, and she can help you to:
Make plans for dinner out. On restaurant websites, Cortana can point you to hours, directions, contact info, and menus.
To get more info about something you see on a webpage in Microsoft Edge, select a word, phrase, or image; right-click it (or press and hold); and then select Ask Cortana.
Cortana may also spontaneously offer to help as you browse with coupons or contact info for businesses, song lyrics, or useful app links on related websites. Note: Cortana and some Cortana features are only available in select regions.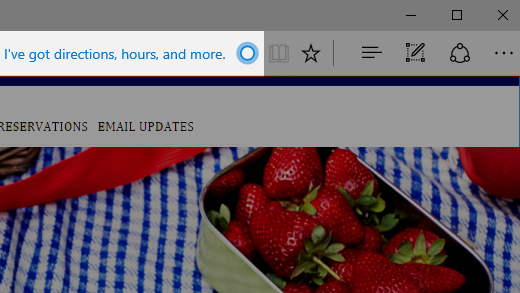 Save time and money while shopping. On shopping websites, Cortana may offer coupons for additional discounts. (This feature isn't available in some countries or regions.)
Sing along to your favorite songs. When you're watching a music video, Cortana can pull up the lyrics or help you buy the song.
Download an app when you need it. On websites where an app could make your life easier, Cortana will show you where to get it.